LISTENING GUIDES TO THE WORKS OF JOHANNES BRAHMS
by Kelly Dean Hansen, Ph.D., Musicology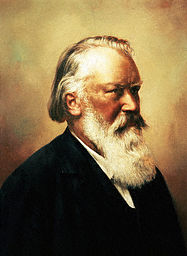 In an ongoing project, I am constructing distinctive real-time listening guides to the works of the German Romantic composer Johannes Brahms. By nature, the guides are recording-specific, but they can be adapted to any recording of the given works by simply changing the timings. I am willing to do this for anybody who would like to provide a recording.

Email me if you have any requests for specific guides for works that may not be posted or

for guides tailored to alternative recordings. The most recent additions will be marked as

NEW!

for at least a week.



NOTE (6/15/14): I should have indicated long ago that I can no longer take requests for specific guides, and I have not done so for some time. I have explained to some people who have emailed me that it is just not feasible, and that it is best to stick to the random order I generated long ago. The guide you want will eventually be available. The site should be finished in the next 2-3 years. 84 of 122 opus numbers have now been done. For whatever reason, I have not changed this introduction since 2006, and I really should have done so. I AM still willing to tailor EXISTING guides to alternate recordings (with changed timings), although with the new public Spotify playlist, this should not usually be necessary.

Brahms Complete Works

on Spotify! (URL)

Brahms Complete Works

on Spotify! (URI)

Notes on the Spotify Playlist




6/17/14: In the almost ten years since beginning this project, it has been a personal labor of love. It has been extremely gratifying to hear stories of people who enjoy what I have done and find the guides useful. It has been even more satisfying to see my work here cited in various papers and projects. But this is a labor-intensive project for which I receive no material benefit or compensation. The guides are and always will be free to use and to cite (as long as I am properly credited), but I feel that it is finally time to drop this little button onto the top of the site. If you feel that my continuation and eventual completion of the project is of value to you or to others, please consider helping me out. Two days ago, I publicly announced (above) that I would not take any requests for guides. However, for any donation of $20 or more, I will immediately drop what I am working on and move directly to a work of your choice from the 38 remaining opus numbers (no WoO numbers at this point). First come, first serve. Guaranteed completion within ten days of the donation or, if somebody is ahead of you, within ten days from the point at which the previous guide in the queue is completed. Thank you in advance to anybody who is moved to help.


The following guides are now available:





Opus 1

: Piano Sonata #1 in C Major [December 21, 2005--REVISED March 26, 2010]

Opus 2: Piano Sonata #2 in F-sharp Minor [December 21, 2005--REVISED

January 24, 2010]
Opus 3: Six Songs (Gesänge) [December 21, 2005--

REVISED December 26, 2012]


Opus 4: Scherzo for Piano in E-flat Minor [September 16, 2014]
Opus 5: Piano Sonata #3 in F Minor [March 4, 2013]
Opus 9: Variations on a Theme of Robert Schumann for Solo Piano [June 30, 2010]
Opus 10: Four Ballades for Piano [March 31, 2015]
Opus 12: Ave Maria for Four-Voice Women's Chorus and Orchestra or Organ [October 14, 2008]
Opus 13: Begräbnisgesang (Burial Song) for Chorus and Wind Instruments [August 28, 2008]
Opus 14: Eight Songs and Romances (Lieder und Romanzen) [September 6, 2008]
Opus 17: Four Partsongs (Gesänge) for Women's Chorus with Two Horns and Harp [November 13, 2008]
Opus 18: String Sextet #1 in B-flat Major (includes arrangement of second movement for piano) [November 13, 2008]
Opus 19: Five Songs (Gedichte--Poems) [January 23, 2009]
Opus 20: Three Duets for Soprano and Alto [February 7, 2006--REVISED

March 28, 2011]
Opus 21, No. 1: Variations on an Original Theme for Piano [January 31, 2009]
Opus 21, No. 2: Variations on a Hungarian Song for Piano [January 31, 2009]
Opus 22: Marienlieder (Marian Songs) for Mixed Chorus [August 24, 2009]
Opus 24: Variations and Fugue on a Theme of G. F. Handel for Piano [November 23, 2009]
Opus 25: Piano Quartet #1 in G Minor [July 9, 2009]
Opus 26: Piano Quartet #2 in A Major [May 31, 2013]
Opus 27: Psalm 13 for Three-Voice Women's Chorus and Organ [October 28, 2009]
Opus 28: Four Duets for Alto and Baritone [August 15, 2009]
Opus 30: Geistliches Lied (Sacred Song) for Mixed Chorus and Organ [October 14, 2008]
Opus 31: Three Quartets for Soprano, Alto, Tenor, and Bass [October 24, 2008]
Opus 32: Nine Songs (Lieder und Gesänge) to Texts by Platen and Daumer [September 15, 2009]
Opus 33: Fifteen Romances from L. Tieck's "Magelone" (Song Cycle) [August 12, 2006--REVISED

September 15, 2009]
Opus 34: Piano Quintet in F Minor [January 7, 2014]
Opus 34b: Sonata for Two Pianos in F Minor (after the Piano Quintet) [January 9, 2014]
Opus 35: Variations on a Theme of Paganini (Studies for Piano) [January 9, 2009]
Opus 36: String Sextet #2 in G Major [August 4, 2014]
Opus 37: Three Sacred Choruses (Geistliche Chöre) for Four-Voice Women's Chorus [September 26, 2008]
Opus 38: Cello Sonata #1 in E Minor [July 11, 2013]
Opus 39: Sixteen Waltzes for Piano Duet or Piano Solo (All Versions) [November 4, 2008]
Opus 41: Five Partsongs (Lieder) for Four-Voice Men's Chorus [May 31, 2008]
Opus 42: Three Partsongs (Gesänge) for Six-Voice Mixed Chorus [January 2, 2006--REVISED

August 19, 2009]
Opus 43: Four Songs (Gesänge) [June 29, 2006--REVISED

January 25, 2010]
Opus 44: Twelve Songs and Romances (Lieder und Romanzen) for Four-Voice Women's Chorus with (Optional) Piano Accompaniment [June 23, 2012]
Opus 45: Ein Deutsches Requiem (A German Requiem) to Words of Holy Scripture for Two Soloists, Chorus, and Orchestra [December 26, 2008]
Opus 47: Five Songs (Lieder) [June 10, 2009]
Opus 49: Five Songs (Lieder) [February 26, 2014]
Opus 50: Rinaldo, Cantata for Tenor Solo, Male Chorus, and Orchestra [September 17, 2013]
Opus 51, No. 1: String Quartet #1 in C Minor [March 31, 2017]

NEW!


Opus 51, No. 2: String Quartet #2 in A Minor [March 31, 2017]

NEW!


Opus 52: Liebeslieder Waltzes for Vocal Quartet and Piano Duet [April 15, 2010]
Opus 53: Rhapsody for Alto, Male Chorus, and Orchestra [September 18, 2009]
Opus 55: Triumphlied (Song of Triumph) from Revelation Chapter 19 for Eight-Voice Chorus, Baritone Soloist, and Orchestra [September 22, 2012]
Opus 57: Eight Songs (Lieder und Gesänge) to Texts by G. F. Daumer [August 28, 2008]
Opus 58: Eight Songs (Lieder und Gesänge) [November 7, 2009]
Opus 59: Eight Songs (Lieder und Gesänge) [February 20, 2009]
Opus 63: Nine Songs (Lieder und Gesänge) [July 15, 2006--REVISED November 7, 2009]
Opus 65: New Liebeslieder Waltzes for Vocal Quartet and Piano Duet [October 24, 2008]
Opus 66: Five Duets for Soprano and Alto [September 15, 2009]
Opus 68: Symphony #1 in C Minor [March 26, 2010]
Opus 69: Nine Songs (Gesänge) [April 3, 2013]


Opus 70: Four Songs (Gesänge) [September 11, 2008]
Opus 71: Five Songs (Gesänge) [May 30, 2014]
Opus 72: Five Songs (Gesänge) [June 15, 2014]
Opus 73: Symphony #2 in D Major [January 29, 2010]
Opus 74: Two Motets for Mixed Chorus [June 30, 2009]
Opus 75: Four Ballads and Romances (Balladen und Romanzen) for Two Voices and Piano [March 28, 2011]
Opus 76: Eight Piano Pieces (Klavierstücke) [November 26, 2008]
Opus 77: Violin Concerto in D Major [February 9, 2009]
Opus 78: Violin Sonata #1 in G Major [September 1, 2009]
Opus 79: Two Rhapsodies for Piano [August 13, 2014]
Opus 80: Academic Festival Overture [June 12, 2013]
Opus 81: Tragic Overture (D Minor) [October 14, 2008]
Opus 82: Nänie for Chorus and Orchestra [April 25, 2014]
Opus 84: Five Romances and Songs (Romanzen und Lieder) for One or Two Voices [June 26, 2006]
Opus 85: Six Songs (Lieder) [August 18, 2008]
Opus 86: Six Songs (Lieder) for Low Voice [November 20, 2008]
Opus 88: String Quintet #1 in F Major [July 21, 2009]
Opus 89: Gesang der Parzen (Song of the Fates) for Six-Voice Chorus and Orchestra [February 26, 2009]
Opus 92: Four Quartets for Soprano, Alto, Tenor, and Bass [June 26, 2009]
Opus 93a: Six Songs and Romances (Lieder und Romanzen) for Four-Voice Mixed Chorus [October 14, 2008]
Opus 93b: Tafellied--"Dank der Damen" ("The Ladies' Toast"), Glee for Six-Voice Mixed Chorus and Piano [June 26, 2009]
Opus 97: Six Songs (Lieder) [September 26, 2008]
Opus 98: Symphony #4 in E Minor [June 17, 2009]
Opus 99: Cello Sonata #2 in F Major [January 26, 2013]
Opus 100: Violin Sonata #2 in A Major [February 9, 2006--REVISED

July 11, 2009]
Opus 101: Piano Trio #3 in C Minor [October 2, 2008]
Opus 104: Five Partsongs (Gesänge) for Mixed Chorus [December 28, 2008]
Opus 106: Five Songs (Lieder) [January 10, 2006--REVISED June 5, 2010]
Opus 108: Violin Sonata #3 in D Minor [March 28, 2007--REVISED

September 1, 2009]
Opus 110: Three Motets for Four- and Eight-Voice Mixed Chorus [August 19, 2009]
Opus 111: String Quintet #2 in G Major [September 29, 2009]
Opus 117: Three Intermezzi for Piano [April 2, 2011]
Opus 118: Six Piano Pieces (Klavierstücke) [December 28, 2005--REVISED

August 3, 2009]
Opus 119: Four Piano Pieces (Klavierstücke) [August 3, 2009]
Opus 120, No. 1: Clarinet (or Viola) Sonata #1 in F Minor [November 23, 2012]
Opus 120, No. 2: Clarinet (or Viola) Sonata #2 in E-flat Major [December 26, 2012]
Opus 121: Four Serious Songs (Vier ernste Gesänge) for Bass Voice and Piano [May 31, 2010]
Opus 122: Eleven Chorale Preludes for Organ (posthumous) [April 8, 2014]


UPDATE (3/31/17): So how is everybody! Yep, two years to the day since I posted an update to the site, and I am genuinely sorry. I didn

'

t mean for this to happen. In mid-2015 I did the guide for the Op. 51, No. 2 String Quartet, which was a request from a donor.

It's been done since about June of that year.

It's also been available and uploaded onto the site, but I never linked it from the front page. That

'

s because I didn

't want to put it up without its companion quartet. So I started to work on Op. 51, No. 1. It was around that time that life started to catch up with me in a lot of ways. It suffices to say that a great many things have happened during that time. All that time, however, I was slowly working on Op. 51, No. 1, but it was taking a very long time. This may be the most complex and intricate piece Brahms ever wrote, and it was surprisingly difficult to analyze and construct the guide. Anyway, in the meantime, the site has moved to a new Plesk server after GoDaddy retired the old Windows-based one. I was able to get a free year on the new server, but as of June 2016, I was no longer grandfathered into the free unlimited hosting. What that means is that I

'

m now paying for both the domain and the hosting, and I had never paid for the actual hosting since I got the domain in 2008. So I now have an extra real expense to actually keep the site up and available. I hate to plead for donations after being absent for so long, but I

'

ve been paying for hosting for almost a year without saying anything publicly about it. I have found that I can

't guarantee new guides within a timely manner, although I will still give priority to donor requests. I have to go back and see what previous donors have said they want. And yes, the Op. 84 guide needs to be dealt with, along with all the IMSLP links from that opus on. Also in this time frame, Emily Ezust

's Lied and Art Song Text Page has migrated from recmusic.org to a new server. Fortunately, all those links are not dead--they just lead to redirects, and everything seems to land on the right page. Still, it

's another time-consuming task that I should undertake to make the text links more clean. The March 2015 update below promised less gap time between postings. That was obviously a promise I couldn

'

t keep, and I won

'

t make it again. But I am hopeful that with the very difficult guide for Op. 51, No. 1 completed, I can move on to some works that are a little less challenging. I am committed to finish the project, no matter how long it takes. Thanks again to everyone who has supported my efforts.

UPDATE (3/31/15): Yes, it's been a while, with another unexpectedly busy stretch of time, but I have been working fairly steadily (if slowly) on the Op. 10 Ballades since September. This has been one of the most requested guides (as have all the solo piano works), so I

'

m glad to finally have it available. With its posting, the only solo piano opus remaining is Op. 116, but it really is time to give attention to other genres. And it is REALLY time to revise the Op. 84 guide. That is absolutely my next task on the site. After that, I will finally fix the remaining score links (which should work up to Op. 82). I

've been tweaking the Spotify list a little (adding true quartet recordings of Op. 103, Nos. 8-10, interspersed with the solo versions of 1-7 and 11; adding at least the original piano duet versions of the Hungarian Dances, WoO 1). And I

'

m going to gently mention the little PayPal button at the top again. After I posted it, I received a fair number of generous donations, for which I am grateful, but the well has been dry for a while. If you are interested in seeing the project brought to completion (and in avoiding long September-March gaps between postings--there were also no donations during that time), then please consider clicking the button and helping me out. Thank you!

Additional Note: With the Op. 10 guide, I'm experimenting with a new idea--adding links to other guides when reference is made to other works. I think that is something I should have explored long ago, but again, it will be an extended project to add these to existing guides.



RINALDO STRIKES AGAIN (8/19/14): This is mainly for the Brahms scholars who may be skeptically watching me with wagging fingers. At some point, I knew about the ten measures that Brahms apparently cut from the very end of Rinaldo's main section, but long ago forgot about them. This is partly due to the fact that my Kalmus reprint of the Sämtliche Werke edition edited by Eusebius Mandyczewski does not include the front matter with editorial notes. (Oh, Dover, why did you never reprint this? The Kalmus is overpriced and incomplete.) These editorial notes included the ten excised bars as a supplement. When I was assembling my Brahms recordings in the late 1990s, the Sinopoli/Kollo Rinaldo on DG (part of the re-released Complete Edition) really was the only obtainable version. It did not include the ten bars, and neither did the only readily available full score. I never did consult the piano/vocal score. I tend to avoid those when analyzing choral/orchestral works. Obviously, I should have done so. Anyway, to my horror, those ten bars reared their ugly head while I was listening to the Albrecht/Andersen recording on Chandos. I discovered that at least one other recent recording, De Billy/Botha on Oehms, includes them. I then recalled that they are, in fact, in the first edition (to which I have linked in my guide). So I had a quandary. I completed the guide for Rinaldo last year, and I believe it to be the site's magnum opus. I have neither the desire nor the willpower to change the recording, and no available full score (they are all reprints of the Sämtliche Werke edition) includes the measures. Yet piano/vocal scores include them even today. I have no idea what will happen when the new Henle Brahms Gesamtausgabe tackles the piece. I know that Professor Robert Pascall disagrees strongly with Mandyczewski's consistent assumption that Brahms's changes in his personal copies of the first editions represent his final, definitive thoughts. Indeed, no edition published in Brahms's lifetime cut the measures.

The problem is that I really don't like these ten measures. They sound strange, like an interpolation. Indeed, their material is almost entirely new. And really, asking the tenor soloist for a high B-flat (sung fairly quietly) at that point of the work is rather sadistic. If Brahms meant to cut them, it was a good decision. But I am a completist to a fault. I go out of my way to use recordings that include every repeat. So I felt that I needed to address the ten measures in my guide. I have therefore added a brief explanation and description of them at the end of the main section, before the final chorus. Brahmsians, please give me credit for this!

UPDATE (6/15/14): I can

't believe that I haven

't done this yet, but in an exciting development, I have assembled a complete Brahms playlist on Spotify! Almost all of the recordings in this playlist are the ones I have used or will use in the guides. Only one recording for guides I have already done, the two-piano works performed by Argerich and Rabinovitch on Teldec, is not (yet) available on Spotify. This applies to the Sonata, Op. 34b and to the two-piano version of the Op. 39 waltzes. For now, I

've included a substitute recording for these pieces, as well as for the five or so other works whose guides are not yet completed and for which I could not find my intended recording. The playlist is in opus order, and includes all the alternate versions covered in the guides. It should be self-explanatory. I have included two recordings for Op. 84. This is the only existing guide that still requires major revision, and this will happen shortly. In the revision, I am going to include timings for a recording with two voices as well as the existing timings for the solo recording. The playlist does not yet include works without opus number. I have no intention of doing guides for these

"WoO

"-numbered pieces (including the Hungarian Dances, the F.A.E. Scherzo, all folksong arrangements, the early organ pieces, etc.)

until all the opus numbers are done. The existence of this playlist should GREATLY enhance the usability of the guides, giving instant access to the recordings. If I have previously given anybody private access to the recordings, have no fear, that location will continue to be updated and available. One great aspect of the Spotify playlist is that Spotify smoothly transitions between tracks where there should be no gap (Rinaldo and some variations sets are good examples of where this is desirable). Of course, if it's time for an ad, all bets are off. So, without further ado, access to the playlist is HERE!

For more detailed clarification on the playlist, particularly all the alternate versions, click here.

IMSLP score links are now repaired through Op. 82. Alternate keys for songs are now indicated through Op. 72 (the newest guide). We

're getting there!

In the distant future, when the guides are done, I may revisit the issue of song keys in the guides (a point that continues to trouble me), giving indication as to which keys are used in the recordings and possibly for the various other complete song sets that are available (such as the CPO and Brilliant sets). Analysis in the guides is ALWAYS done with reference to the original key, whether or not (usually not) the song in question is sung in that key by Fischer-Dieskau or Norman.



UPDATE (2/26/14): Well, it had to happen eventually. The Lullaby has finally arrived at the Brahms Listening Guides website. This is for the other 95%--I guess. But you, sophisticated regular visitors, will never call it

"Brahms' Lullaby" again. And even if you do, you

'll rebel against the horrible AP style Brahms' and properly style it as "Brahms

'

s Lullaby." After all, we wouldn't want to imply that the most famous cradle song in the world was written by several members of the family Brahm! Or even better, you will demonstrate your sophistication by putting your child to sleep while singing Wiegenlied, Op. 49, No. 4, making sure the infant grows up knowing its proper designation.

In more mundane news, I neglected to mention on this front page that last month, I added the version without voices (Op. 65a) to the guide for the New Liebeslieder Waltzes, Op. 65a, in the same manner that this was done for Op. 52, as described below. Score links have now been fixed and updated through Op. 69!

UPDATE (1/9/14): As mentioned in the guide itself, I have departed from my usual practice in constructing separate guides for the Piano Quintet, Op. 34, and its version as a Sonata for Two Pianos, Op. 34b. Typically, alternate versions of works are presented within the same guide (e.g., Opp. 12, 18, 39, 52, 65, 120 Nos. 1 & 2). The reasons for doing a separate guide for Op. 34b are actually obvious; the fact that neither piano part in the sonata matches the piano part in the quintet (and the sheer scope of the differences in the scoring) really left me no choice. The guides are among the largest I have done for instrumental works, which speaks to the vast content and compositional intricacy of this music, in either of its two versions. I did use the guide for Op. 34 as a template for Op. 34b, but I made an effort to treat the two-piano version independently, with as little reference to the quintet version or to string instruments as possible, only doing so in a few cases of particular interest.

I apologize once again for the long delay; this was one of the most challenging works to tackle, and I had to do it twice (at a busy time of the year). I now intend to turn for a time to song sets and other smaller works--the Piano Quintet has kind of drained me. Expect to see more movement on the updating of score links as well, as more low-voice versions from the Peters Edition of the songs become available on IMSLP.

UPDATE (9/17/13): Whew! Now that I've tackled Rinaldo, the greatest obstacle to eventually finishing this long project has been removed. I had been concerned about this particular work for some time. It is the most singular and unique among all of Brahms's major works, his only choral setting of an overtly dramatic text, and the only large composition to have an almost completely continuous structure. I had debated for many months how I would handle this guide when it came up. Even the issue of posting translations for such a long text proved a puzzle, as did the issue of how to handle a multi-track recording of a piece with only one real break. The result is what will likely be the magnum opus of the Brahms Listening Guides. No, it's not the biggest Brahms work or even the most profound. In fact, it is probably the least familiar of all the major compositions. But it provided challenges to my established method, and I am extremely happy to have finished it. I hope you enjoy my approach to this unusual piece. As you can see, it took a while. Another much-demanded piece, the Piano Quintet (Op. 34), is coming next.

I am mindful of the need to update the rest of the score links. I am kind of stalled there right now because the low-key editions for the later song opus numbers have not yet been posted to IMSLP. Still, I intend to move forward with non-song opus numbers. The links are fixed through Op. 55.

On another subject entirely, my city of Boulder has been ravaged by disastrous floods in the last week. Ironically, with everything shut down because of an abundance of water, I was able to find time to finish describing Brahms's thrilling setting of Rinaldo's voyage away from Armida's enchanted island. We find silver linings where we can. While my family was fortunate to escape with no damage to health or property, the devastation around us is awesome and terrible. I ask for thoughts and prayers on behalf of those who suffered devastating losses in this incredible catastrophe.

UPDATE (6/4/13): The guide for the Liebeslieder Waltzes, Op. 52, has been updated to consider the version for piano duet without voices published as Op. 52a. I had resisted including this version because I consider it inferior. But it does have a prominence among arrangements because of the separate opus number with letter, because it was included in the Sämtliche Werke, and because recordings are readily available. There are very few alterations of any significance from the piano duet parts of the main version with vocal quartet. The most prominent of these is the embellished repeat of No. 7, Part 2. I hope that my method of considering this version is unobtrusive, but still useful. I did not consider it worthy of its own separate outline as with, for example, the viola versions of the Op. 120 sonatas. At some point in the near future, this update will also be done for the New Liebeslieder Waltzes, Op. 65.

Score links have been updated and corrected through Op. 55 (and for any guides with higher numbers constructed from 2012 on). The latest new guide is the A-major Piano Quartet, Op. 26, the composer's longest instrumental work! On deck are the Academic Festival Overture, Op. 80, and the First Cello Sonata, Op. 38.

UPDATE (3/4/13): I've again moved the updates to the archive page (linked below). I am regularly posting guides again, but at a slower pace than in 2008 and 2009. The latest guide to be posted, the F-minor piano sonata (Op. 5), has been long awaited and requested. I'm happy to finally have it available. Score links have been updated through Op. 33. Indications of alternate keys for solo songs are also being added as I fix the score links. Again, this will be an extended process, as most of my time on the site will be spent creating new guides. Thanks again for all the messages of support!

ARCHIVED UPDATES AND COMMENTS
NOTE ON MEASURE NUMBERS




All guides copyright 2004-2015 by Kelly Dean Hansen. Feel free to use them in any way, but please give me credit

.